Notable Women
Google Font, Website, iOS & Android apps
2017 — 2018
Notable Women is an AR Experiment that lets anyone see 100 historic American women where they've historically been left out: U.S. currency. From activists, artists, and scientists to business moguls, writers, and civic leaders, Notable Women uncovers the stories of historic women right on the money in your wallet.
While at Google Creative Lab, I contributed to the design and development of the Notable Women website and augmented reality apps—building out a sweet of brand assets including hundreds of individually edited U.S. bills with historical women's faces. I worked closely with fellow designers
Noemie Le Coz
and
Hana Tanimura
to build the Notable Women logo into a full typeface, which is now available on Google fonts.
The Notable Women brand, logo, and typeface all reference U.S. currency; the Notable Women letterforms stem from those that appear on U.S. bills, but are redrawn with their serifs removed. While consistently nodding to its historical origins, Notable Women uses modern graphic form, bold color, and the latest in augmented reality technology to highlight women from U.S. history deserving of a place on our currency.
Notable Women was featured on
It's Nice That
and
Typewolf
, and was the winner of the
Site of the Day on FWA
.
Notable Women features a stack of 100 bills that the user swipes through by scrolling the page. Each bill is accompanied by a short biography of the featured American woman.



The bills were edited to remove serial numbers and other federal identifiers for legal purposed. In the place of the removed elements, our team added a custom Notable Women seal, a project hashtag, and other theme text. I produced four bill variants spread among the 100 bills, so that subtle details would change as users explored the website.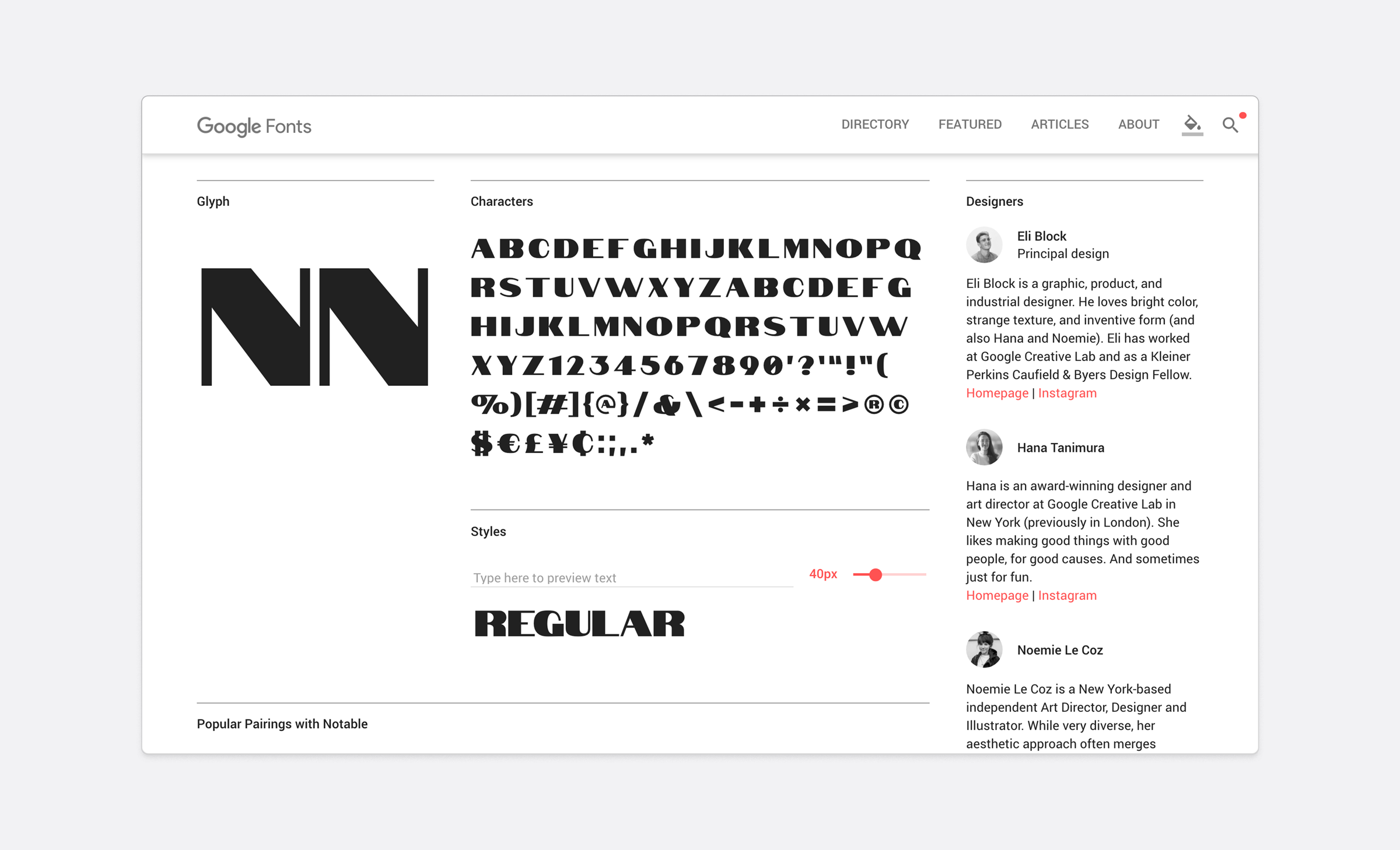 Learn more about the featured women and see more assets I designed (including a downloadable project poster and giant bulletin board with all 100 bills) at
notablewomen.com
. You can also learn more about the project at
experiments.withgoogle.com
.